GR's Fight Over Free Speech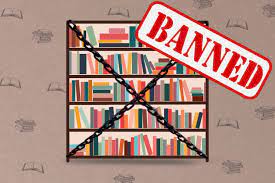 Over eight hundred people packed the Ridgewood Avenue School auditorium on February 8th to attend a meeting of the Glen Ridge Library Board of Trustees. This was not an ordinary or routine Library Board meeting.  A key agenda item was whether or not the Glen Ridge Library should ban six children's and YA books that contain sexual or LGBTQ+ content. The ban was proposed by eight people representing six households in Glen Ridge, all of whom are members of the group Citizens Defending Education (CDE). The CDE states that, "CDE is a group of Glen Ridge residents seeking transparency and accountability on all issues involving the school district, particularly the new diversity, equity, and inclusion (DEI) initiatives currently being implemented in our schools." In written requests, the CDE has stated that the six books in question are inappropriate and unsuitable to have in the library. Out of the seven thousand-seven hundred people who live in Glen Ridge, only eight people felt the need to ban these books.
Glen Ridge United Against Book Bans was formed in response to the CDE's request to have these six books banned. This organization is made up of Glen Ridge residents who are opposed to book bans. Glen Ridge United sent out a petition and gathered nearly three-thousand signatures opposing the book ban. 
Here's what GRHS students had to say:  
When asked about her initial reaction to the book ban, Claire Liotta said "My initial reaction was shock and confusion. Not only was I kind of appalled by the situation but was just wondering: who would want to ban these books?" 
The president of GRHS's Gay Straight Alliance, Elizabeth Neumann, responded "I was surprised, I didn't think that would ever happen in this town." Elizabeth Neumann also felt that banning books would send the wrong message to younger kids who related to the stories. 
Caitlin Stein said "I don't think it's right to prevent kids from learning from these books. These books are important in the world right now, and it's important for kids to know about gender. If they're shielded from it, it's going to confuse them when they are older." 
When asked if they thought it was okay to ban any books at all, not just these specific ones, Ellis Kastenmeier said "No, I don't think any books should be banned because it's important that people have access to all the knowledge available…and even if books are hateful or not entirely truthful it's important that they aren't hidden. In some cases there should be warnings on books, because we don't want kids to encounter hateful things…but it's important for all types of books to be out there." 
And lastly, when asking what would you say to those who want to ban the books, Elizabeth Neumann said "It's fine for parents to restrict what their kids read, but don't try to control others." 
Ellis Kastenmeier answered "The people who are arguing for these books to be banned don't have the authority to say so…It's been so long since they were kids that I think it's hard for them to understand what is okay for kids to see, and what is important for kids to learn about." 
At the board meeting, the forty speakers ranged from church ministers, parents, librarians, students, the mother of one of the book's authors, and even Assemblywomen Britnee Timberlake. Reasons varied from not wanting their child to be restricted on what they can and can't read, to how books can save lives. Everyone who spoke was against the book ban except for one individual who seemed sympathetic to the CDE. The rest of the CDE didn't show up. With less than one percent of the speakers wanting the book ban, the book ban was evidently ruled out, and the six titles remain in the library.