The Flavor of Leone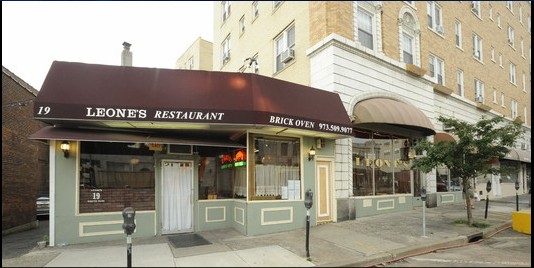 Despite other Italian restaurants existing throughout the community and in neighboring towns, Montclair's Leones certainly emerges as one of the top options. Anyone walking down Park Street can easily detect the rich Italian aroma of its pizzeria and restaurant. My family and I arrived to Leones last Saturday around 4:00 p.m, typically not a busy time, and yet there were only a couple of tables vacant. Upon entering and passing through the pizzeria, a friendly and welcoming waitress guided us to one of the open tables where immediately, I was immersed into an authentic italian atmosphere. It seems the restaurant converted a former industrial space into a rustic and Italian infused commercial space with brick walls, high ceilings, and a large window that illuminates the main dining room. The restaurant was adorned in fall decor which nicely complemented the numerous pictures of old Italian neighborhoods and a large portrait of Mama Leone, reflecting the pride they take in representing their heritage.
After receiving our menus, my parents and I debated over so many fabulous dishes while devouring their delicious warm bread dipped in extra virgin olive oil. We struggled about which fried calamari appetizer to choose and the waitress graciously offered to split the order – half traditional and half ginger accompanied with just the right accent of julienne sliced carrots and zucchini. Both were tender and lightly fried to perfection. For entrees, I had the classic chicken francaise over penne with sauteed broccoli, my mom had a fall themed penne zucca with pumpkin squash and chicken, and my dad had the mouthwatering chicken savoy. While the waitress was patient and able to cater to our specific requests, such as not adding salt or cheese on certain dishes, it took at least 20 minutes for our food to arrive. This could have been partly due to their seeming to be short staffed which would also explain the waitress not serving all of our entrees at exactly the same time or removing finished dishes in a timely fashion. In spite of the slow and a bit disorganized service, the food did not disappoint. My chicken was cooked perfectly and drizzled with a savory lemon-butter sauce that had me eager for every bite.
Leones' versatile and innovative menu, warm atmosphere, and competitive pricing appeals to many groups of people including millennials, families, and couples of all ages. We left very satisfied with smiles on our faces, leaving no doubt that we will continue to be frequent customers.