Rihanna's Super Bowl Halftime Show Chooses Coherence Over Color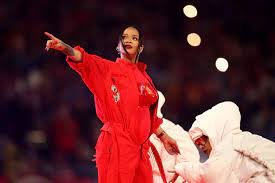 On September 24th, it was announced that Rihanna would be headlining this year's Super Bowl Halftime Show. Avid Rihanna fans worldwide were thrilled if not slightly surprised; the pop star had not performed since the 2018's Grammy Awards and had not toured since publicizing "Anti," her album released in 2016. Though temporarily on hiatus while nurturing her first child, Rihanna had no trouble returning to the spotlight. Rihanna enraptured us with an undoubtedly powerful performance– which also doubled as a pregnancy reveal – and took the stage with intensity and purpose.
Before Sunday, Rihanna's choice for the opening number was widely debated. Some believed she would begin with one of her Billboard top-ten pop classics such as 2007's "Umbrella" or 2011's "We Found Love in a Hopeless Place." "B**ch Better Have My Money" was Rihanna's power-packed starting song, which squashed predictions and set the tone for the entire performance. The setlist was a medley of songs from different Rihanna "eras," including "Only Girl in the World," "Pour It Up," "Wild Thoughts," and, for the grand finale, "Diamonds."
The futuristic, flying stage was eye-catching yet minimalistic, and Rihanna used no props– or, more surprisingly, guest stars– in her performance. The color palette was uniform. Everyone wore the same white, save for Rihanna, who broke the unity with a shocking red. She did not have any costume changes during the show. The song choice and wardrobe were a statement in and of itself: Rihanna was not going to conform to any standards or expectations. She was utterly original in her way.
Another stand-out element in Rihanna's Super Bowl Halftime Show was the backup dancers. The dancing was incredibly synchronized, to an even freaky, alien-like extent. Rihanna's dancers were dressed in pillowy white attire– hence why people called them "marshmallows" – and masked throughout the numbers. Though the performance was "dance-heavy," Rihanna did not have particularly complex choreography. Overall, the marshmallow dancers came in copious numbers and became instantly accepted into meme culture. 
To sum it up, Rihanna's Halftime Show was well organized and cohesive. Though it may not compare in liveliness or color to past performances, it was flawlessly executed and only emphasized Rihanna's stage presence.