One Goal Isn't Enough (Educator Profile: Tim Liddy)
From student to player, from player to teacher, from teacher to coach, from coach to Vice Principal. What hasn't Tim Liddy done?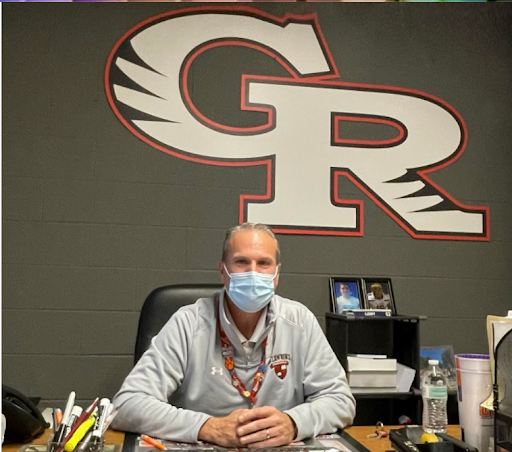 To the people outside this small town, Mr. Tim Liddy may seem like an ordinary person, with an ordinary job. While walking into his office, we saw why some people may think that way. He wore a simple white long-sleeve button down shirt along with his nametag and a gym whistle. His office was nicely arranged, with chairs in front of his desk, which stood before a large Glen Ridge logo. On the bookshelves behind him, we saw a few pictures of his children, accompanying other personal belongings. 
To the people looking, this would seem incredibly ordinary. Though, to the people of our community, he is known for the numerous relationships he shares with the citizens of Glen Ridge. 
Mr. Liddy upholds different roles for different people: A coach, a colleague, a mentor, a Vice Principal — the list goes on and on. Yet, he is still more than only this. With multiple children, Mr. Liddy found juggling his home life and work life to be a challenge. Though, as he states, he wouldn't change anything about it. With his incredible passion for sports, Mr. Liddy enjoyed the constant movement from game to game, supporting his children as they grew with similar aspirations and goals. 
Yet the question still stands: What are his goals of a school administrator? At first, it seemed that his job was where most of Mr. Liddy's goals were born, but after delving deeper into his personal life, we saw that his family was the heart of his aspirations.   
Was there anything/anyone that convinced you to become an educator?
Yes there was. Quite a long time ago, when I was in middle school, at Ridgewood Avenue, there was a physical education teacher. His name was Mr. Manny. He was also the JV basketball coach, and he had a great influence upon my life about, you know, basketball and teaching and all that stuff. And I think he was a great role model for me and somebody I looked up to then, and still stay in contact with over all those years. Whatever it's been, like forty some odd years. I've known him for something like that. 
How did becoming an educator change you?
It made me realize that everybody has a story. Like, every student has something going on. Every student has a different need or different help. It makes me realize that there's a lot of needs, and different ways to help students on a daily basis or a weekly basis, or whatever. But also to see what students go through every day, like when you go from class to class: English to History to Phys-ed to Science, and realizing that there's a lot of things that are thrown at students. And just that if you can help them in certain ways with things that they can remember in life or take away with them, I think would be greatly important. It was something that I realized especially when I became a school administrator. 
Did you have a job before this? If so, what was it, and why did you choose it?
I guess it was about 28 years ago, I was a social studies teacher and head basketball coach at Glen Ridge High School. So before I got that job, I was the assistant basketball coach and Intramural Director in Fairleigh Dickinson University. I got that job after college, and I was there for three years. After the job at FDU with basketball, I became the social studies teacher and head basketball coach here at the Glen Ridge High School. After eleven years, I became the athletic director, then after that I was the assistant principal. That's kind of the road. 
What do you think are good qualities in a good leader/educator? 
I think you have to be decisive in your decisions, but take everybody's opinions along the way and do what's best. First, what's best for the student, and then what's best overall. But then again, I think listening to what everybody has to say and then making a decision on what's best, and especially what's best in the case and interest of the student. 
Did your interests change as you became an educator?
No, not really. I don't think a lot has changed; my hobbies haven't changed. As a hobby, maybe, I became more of a fan of football, switching over from basketball to football, especially with my two sons playing college football. I still love basketball but football is right there with it now, especially over the last six years or so when my kids started to play college football. 
If you were to pursue one of your hobbies, what would it be?
That's a good question! I don't really know what kind of hobbies I have. Uhm, well my oldest son, Ryan, gets mad all the time because he wants to be a college football coach. I always tell him I'd want to be his offensive coordinator, so that gets us into big arguments a lot. It's pretty fun just to say that to him and get him all riled up. But I don't know, maybe one day getting back into coaching again. You have different relationships when you're coaching student athletes, and I miss that. I especially missed it when I first left. But, yeah, maybe getting back onto that path, if possible. 
Was there a specific obstacle that you had to overcome in your home-life or work-life?
I don't know if it was an obstacle, but having four kids, and having a lot to juggle around. I would not change anything that I've done, trust me, but it was a lot. Looking back, I would never change any of it, even though at the time I thought I was losing my mind. You know, going from high school games, to coaching my son, to going back to a high school game on the weekend or something along those lines. But again, it wasn't really an obstacle, but it was something that I didn't expect, yet still loved to do. I miss it now, in a way. 
Did you meet your goals or expectations in your home/work life?
Yes, I think I have. I think I've overachieved on my goals, and I hope to think that way. So, yes, I think I have. I'm very grateful and happy for where I am right now, and thankful for where I am with everything in my life right now. I hope it continues that way. 
What were some of your goals?
Well, my goal really, was wanting to become a coach, and wanting to become a teacher, and wanting to have a family. All those things have happened, and seeing my kids now graduating from college, and being successful is also very gratifying.