Taylor Swift: A Midnights Mastermind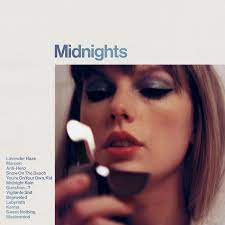 I have one thing to say about this album: Taylor Swift is a genius (a mastermind if you want to be cheesy). Now, if you're like me, you've had this album on repeat since the day it was released and so far I've yet to be sick of it(but there's always time.) This album is the story of thirteen different sleepless nights spread across Taylor's life. 
First song on the album, "Lavender Haze". "Lavender Haze" is definitely one of my favorites. This song is about struggling to keep up with comments and rumors. Particularly ones about a possible engagement to her current partner, Joe Alwyn. There's a certain line that really sums up the meaning of the song, "All they keep asking me, is if I'm gonna be your bride." Taylor states that she is tired of the patriarchal idea that all that matters is her relationship status. Overall, "Lavender Haze" is an amazing song and one of my favorites
The second track is "Maroon". Honestly, I'm more of a music person than a lyric person so this song wasn't my favorite. However, the track truly proves what a musical genius Taylor Swift is. Throughout the song Swift recites,  rose, burgundy, wine, blood, scarlet, roses, and even rust but never once says or describes something as red – an easy homage to here last re-recorded album. Even with something as simple as blushing, she sings, "The burgundy on my t-shirt as you splashed your wine into me and how the blood rushed into my cheeks so scarlet it was maroon." While this song wasn't my favorite, I still appreciate the pure brilliance of the lyrics.
Third "Anti-Hero", one of my favorites and -in my opinion- the centerpiece of the album. This wonderfully crafted song isn't about romance like many of the other tracks on the album, but rather about Swift's own insecurities and anxieties. Taylor takes us through the journey of coming to terms with the fact that she is creating most of her problems, becoming the "anti-hero" if you will. My all time favorite line in this song and probably the entire album is,"I'll stare directly at the sun but never in the mirror." This lyric cut incredibly deep with me and was definitely the song I could relate to the most. The thought of creating new, harder problems rather than facing your current issues and insecurities is a thought I have had many times which means I'm basically Taylor Swift… right? All in all, I couldn't have dreamed someone could put such antagonistic feelings into such a catchy song. 
Next up is "Snow on the Beach". To be fully transparent, this song was a let down for a few reasons. First of all the song just isn't the type I'm into which obviously doesn't apply to everybody. However, I think I speak for most if not all Taylor Swift fans when I say this song was highly anticipated. When it was announced that "Snow on the Beach" was the only song with a feature and that feature was none other than Lana del Rey, I got super excited. Unfortunately, Lana's feature on the song has less to it than the flavor of a La Croix. A small whisper of lime in the seltzer is just about equal to the faint ghost of Lana del Rey that fans heard in the song, which was very disappointing. Feature aside, the song had a decent meaning to it. The song is about falling in love being weird yet beautiful, not unlike snow on the beach. 
"You're On Your Own Kid", a certainly happy title, is another favorite of mine. This song is about falling in love with someone who doesn't love you back, something many listeners can really relate to. Eventually, Taylor gets tired of waiting and runs away. She learned and developed but he didn't care, so why should she? Surprisingly, I don't have a lot of thoughts on this song other than: it was fantastic and definitely worth a listen.
Next up is the only title with the album name in it: "Midnight Rain". This song is a perfect mix of tranquil and upbeat. It shows the heartbreak of breaking someone else's heart. More specifically, and in Taylor's case, having to put your career first. Many fans think this song is about one of Taylor's exes, Tom Hiddleston who she states is too nice for his and her own good. The lyric, "He wanted it comfortable I wanted that pain" might have been an ode to the "Blank Space" lyric, "Guys only want love if it's torture." This track was musically and lyrically great and even tugged on my heartstrings a bit.
"Can I ask you a question, have you ever had someone kiss you in a crowded room?" Because Taylor has. And if you were to ask me the question,"Did you cringe writing that corny intro sentence," the answer would be yes, a little bit. Many fans believe this song alludes to a possible relationship with Karlie Kloss and Swift because of the pronouns used in the song.. I like this theory but even I can admit it is a little far fetched. The usage of she/her pronouns aside, this song is about not knowing what to do in a relationship. As the title suggests, Taylor is unsure on what to do and is worried she is making all the wrong choices. Not very reassuring to hear from someone that millions of people idolize. "Question…?" is definitely a bop (if you don't know what that means, grab a teenager off the street and ask them) no matter the questionable meaning behind it. Do you see what I did there?
Let's just call this next song Track 8 due to less than favorable language. A popular theory about this song that I personally subscribe to is the possibility of this song being about Kim Kardashian and Kanye West. Now I know that seems like a stretch, but hear me out. This song is about ruining a man to avenge a friend and the hints definitely don't stop there, especially in the lyrics. This includes but is not limited to,"Gets the house, gets the kids, gets the pride," and, " "Picture me,thick as thieves with your ex wife." This track is the most reputation-like out of the album by far. This might be due to one of the many inspirations for Swift's seventh studio album, Reputation being Kanye interrupting Taylor's VMA speech.
The next song on the album is pure color and well, sparkle ( I know, oy with the puns already, but I'll never stop!) "Bejeweled" quickly became one of the most popular songs on the album, deservedly so might I add. The music really takes you through the journey of under-appreciation turned new-found confidence. We see Taylor feel used and like she is too good for her current relationship which is quite the opposite of "Midnight Rain". By the end of the song, she realizes she,"miss[es] sparkling" and decides she deserves better. This is a must listen and a new self love anthem. Honestly, I can't think of anything more to say about this song other than it is beautiful and amazing and you should go listen to it.
"Labyrinth" is another lyric-heavy song. Because of this, the song sounds more like a poem which certainly isn't a bad thing. However, as some who, as previously mentioned, values music over lyrics, this song bored me. "Labyrinth" is about the anxiety when falling in love and how there isn't just one path to take. This song is beautifully written and relatable for even everyday life. Taylor even hinted at multiple lyrics in the song in the speech she gave at NYU after getting an honorary degree. Overall, this song was great but just wasn't my thing.
The next song "Karma" however is my favorite of the album. "Karma" is also arguably the most upbeat song out of all of them. This track is about feeling happy in life and the joy in knowing that Karma is on your side. Taylor goes on to say probably the most Taylor Swift lyric I have ever heard, "karma is a cat purring in my lap cause it loves me". Karma is rewarding her for her good deeds and completely enjoying it. To answer a question in the lyrics, yes, I am envious that Karma isn't as sweet to the rest of us
Speaking of sweet, "Sweet Nothing" is the 12th track. This song definitely gives off folklore vibes and I'm 100% here for it. It is also the cutest, sweetest song on the album and the lyrics are even more adorable. "Sweet Nothing" is about the comfort in having a partner that feels like home. Taylor wrote this for the hopeless romantics and as one myself, I loved it. Slow and steady, this song is comforting and fun to listen to all at the same time. And what makes it even better, is the fact that she wrote this with Joe Alwyn, her current boyfriend and rumored fiance. 
Last but definitely not least, is "Mastermind". This song is my mom's personal favorite so do whatever you want with that information. "Mastermind" is unbelievably brilliant especially when you know the backstory to it. Critics have always described Swift as a manipulator and in writing this song, she made herself out to be a puppet master of sorts which is totally a mastermind move. The effortless analogies in the song made it that much better. Two of the best are, "I've been scheming like a criminal ever since/To make them love me and seem effortless," and, "the dominoes cascaded in a line/what if I told you I'm a mastermind/ and now you're mine". I have absolutely no words to describe this song other than pure genius
Midnights by Taylor Swift is incredible in all ways and I will be playing it for years to come. If you haven't listened to it, I don't know why you're reading this article when you should be listening to the many amazing songs Taylor has in store.