Who is Trump's New Vice President?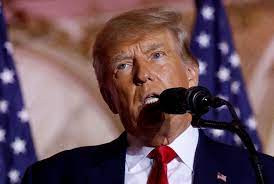 In the upcoming 2024 election, Trump's goal will be to acquire as many votes as possible. In order to broaden his supporting audience, it is likely that Trump will choose a marginalized group to run for Vice President. From his disclosed preferences and outside speculation, a woman seems like the likely choice. Although, speculation is still high due to the lack of a definitive decision from Donald Trump. What is known is that the former Vice President of Trump, Mike Pence, will not be seeking to repeat his past role. 
A popular name in this debate is Marjorie Taylor Greene, a Congresswoman and publicly loyal supporter of Trump. She has stated many times her willingness–and plans–to become a Vice President to Donald Trump. Another common guess is Tulsi Gabbard, formerly a democrat and House of Representatives member. Although, due to her past affiliations with the left side, it is unlikely that Trump will gain an appropriate amount of support by using her for Vice President. Lastly, Elsie Stefanik–a current member in the House of Representatives–has been speaking with high hopes for the upcoming 2024 election, and avidly supporting Trump's decision to run for President again. This loyal presence may lead to her becoming a candidate for Vice President.
While this list isn't an ultimatum, it does describe very possible outcomes. Of course, many other people have been theorized about, and likely many more are wanting the position of Vice President. Until Trump makes a final decision, those wondering will have to wait.