Spinning by Tillie Walden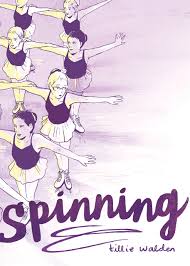 One chilly winter afternoon, I decided to stop by the library to pick up a book. I was in the mood for a graphic novel
or memoir, and as I skimmed the shelf, a lilac book, the cover depicting a line of skating girls, caught my eye. That book was Tillie Walden's Spinning, easily one of my favorite graphic novels I've read.
Spinning is a graphic memoir, detailing Walden's coming-of-age. In shades of purple, Walden tells the story of her
teen years as a figure skater. Skating took up most of Walden's time as a teen, and was a major part of her identity. In raw, vivid detail, Walden depicts her memories of this passion and the way her feelings towards skating changed over the course of her teenage years. We meet her coaches and her best friend Lindsey and watch her compete, learn, and grow.
Of course, Spinning is not just a story about skating. Over the course of the graphic memoir, we see Walden move
from New Jersey to Texas and adjust to her new life. She struggles with school, encounters bullies, and has tough emotional moments. One major theme of the graphic memoir is coming out — Walden comes to terms with her identity as a lesbian, begins to come out, and has her first girlfriend. Walden also discusses how she discovered her passion for art and decided to choose this career path over a more traditional one — an especially interesting plot, considering it led to Walden being the bestselling graphic novelist she is today.
The art in Spinning is simplistic yet beautiful, especially with the story it tells. Walden tells her story in a realistic
manner, rather than exaggerating or glossing over the details. It is easy to empathize with her and feel her emotions with her. Overall, Spinning is definitely one of my favorite books I've read this year!