The House of Wolves: Villalobos, Reviewed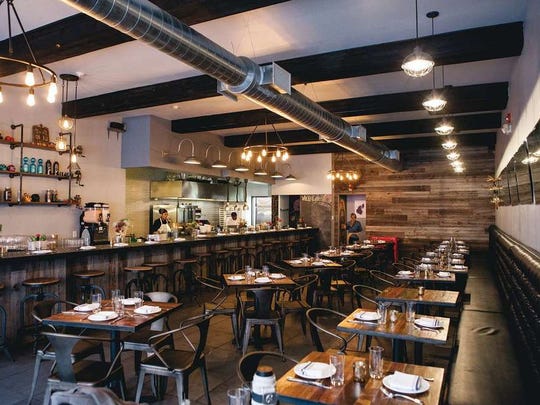 Tucked in the side of Church Street in downtown Montclair sits a charming Mexican restaurant that is bustling with customers every night. Villalobos, translated in English as "The House of Wolves", serves a variety of Mexican dishes, including tacos, homemade guacamole, antojitos, and various unique and delicious entrees. The Traditional Pico de Gallo Guacamole is one of their most popular dishes, with a fresh lemony tang and a slightly spicy flavor thanks to the jalapeno peppers that are added to the guac, among other herbs, vegetables, and spices. It tastes homemade and authentic, which many other Mexican restaurants are unable to achieve. Although most of their tacos cater to a more sophisticated palette, kids can enjoy the Tinga tacos, which have chicken breast, cilantro and onion, and potato chips on top. Every dish is different from the others, and each has a carefully crafted selection of flavors that comes together beautifully.
Villalobos can be described as "Very good, but too expensive for the average high schooler!" Kaira Krishna says. Like many other Glen Ridge High School students, Kaira doesn't have a regular job, making such expensive meals impractical. She jokes "I'd rather go to Chipotle." Kaira has a point. Three tacos costs a whopping 18 dollars, compared to many other Mexican restaurants that serve tacos for as little as a dollar a piece. At Villalobos, dinner for two is sold for 65 dollars, and most entrees are between 20-30 dollars. It is a setting better suited for the upper-class adult communities in Montclair and Glen Ridge. Young people more often frequent cheaper Mexican restaurants such as Tacoria, Tinga, and Chipotle, and it seems unlikely that Villalobos will try to combat the issue of excessively high prices because they already get plenty of business. 
When one looks through the glass windows into the dimly lit dining room, it is often packed, especially on weekend evenings. Many people also choose to rent it out for private events. If you want to try authentic Mexican cuisine, head to Villalobos– but it comes at a high price.