What Do Social Distancing and Mr. Brightside Have in Common?
COVID-19 and Social Distancing
The Glen Ridge High School student body and faculty have been under orders to stay home in order to practice social distancing since Friday, March 13th, 2020. In addition to GRHS, other schools, businesses, and other large gatherings of people have been closed or canceled in order to prevent the spread of the novel coronavirus. Although many workplaces have ordered their employees to work from home, those whose jobs cannot be done from home or are essential to society continue to go to work. 
What is social distancing?
According to the senior director of infection prevention at Johns Hopkins, Lisa Maragakis, M.D., M.P.H, social distancing is the deliberate act of increasing the physical space between people—six feet in the case of COVID-19— to avoid spreading illness. This strategy was implemented to help slow the spread of the coronavirus because the virus is spread through physically close contact between people. It can allow the healthcare system to more readily care for patients over time. You may have been hearing the term "flatten the curve" being tossed around. "Flattening the curve" refers to employing preventative measures—such as social distancing and handwashing—in order to slow the infection rate of COVID-19 so as to not overwhelm a hospital's capacity. To put it in simple terms, if a high number of cases hits a hospital within just a few days, then the hospital has a high chance of running out of beds, supplies, and staff. They will essentially not be able to treat everybody. On the other hand, if that same high number of cases hits that same hospital over a longer stretch of time—decreasing the number of daily cases—that hospital would not run out of beds, supplies, and staff as quickly. The hospital would have more time to replenish supplies and the hospital's staff would be less likely to contract the disease. Ultimately, in the first scenario, more people would go without the supportive care they need and have a higher chance of the disease being deadly.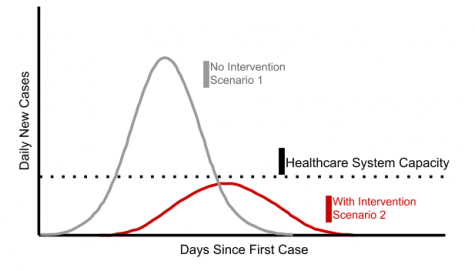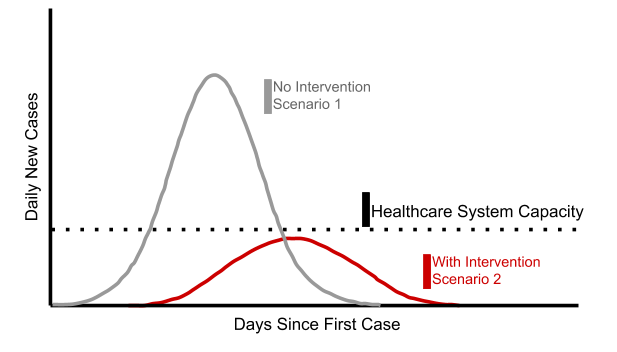 The most effective way you can practice social distancing is to stay home and to stay away from people that you don't live with. Staying away from public places is essential because the virus can live on these shared surfaces. Washing your hands often for at least twenty seconds—the alphabet song, happy birthday twice, the chorus of Mr. Brightside, and others included at the bottom of this article—is also an effective way to prevent the transmission of germs. 
However, it is important to maintain human connection. Social isolation can have negative effects on the immune system and mental health so balance is important in times like these. Jonathan Kanter and Nicole McNichols of the University of Washington's Department of Psychology have some suggestions to achieve this balance: 
Exercise 

Calling or Facetiming friends and family – it's better than texting

Stick to routines – comfort can be found in predictability 

Avoid looking at the news all day

Keep a journal

Exercise self compassion – be nice to yourself 
Stay healthy Ridgers!