Soul : A Truly Touching Movie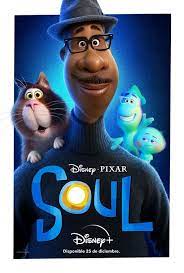 If you ever want to watch a movie that will make you laugh and allow you to realize something about yourself, then Soul is it. 
Soul will take you on an emotional journey through the fears of two completely different people, and how they overcome them together. You will see how they learn from their mistakes, and how they wont allow their past to affect their future. Not only do these characters learn together, they also discover the true meaning of life. 
Soul is a heart-warming film about a man named Joe who dies, but refuses to go to the after life. As a middle school band teacher, he wanted something more with his life, and was soon to get it, but then he died. While trying to get back to earth he meets 22 and she helps him get back home, but she ends up in his body. Together they have to try to switch them back, and return 22 to The Great Before, since 22 doesn't want to live. Along the way, they learn many valuable lessons, making the viewer realize something about themselves, they hadn't known before. 
While on Earth, 22 asks Joe questions which make him reconsider the meaning of life, like "is all this living really worth dying for?" Joe realizes his life wasn't what he wanted, and used his death as a wake up call. But he also realizes that his purpose might not be what he originally thought. His journey concludes with a life changing awareness, that allows him to be his best self. 
Some may assume that Soul is a cliche film, overused and boring, but it is not. It is a movie that anyone can learn from — young or old. When I first watched Soul, I fell in love with the characters, animations, and plot. Not only did they teach me something, they had me smiling the entire time. Soul also shines light on the people whose dreams never came true and how they are because of that. Yet, it allows people to see their life in a different light, helping them achieve their goals. 
When the writers were writing this film, they based it off one of the writer's life himself, as he almost died. Afterward, he finally had a grasp on what he truly wanted in his life. Just like Joe, they wanted to teach viewers "that it's not about winners or losers and that everyone's life has value" (Powers-NPR). They want people to feel needed in a world that can be excluding.
When you think about it, peoples' lives have so many different purposes, but your real purpose, is the one that affects you and others the most. 
451 Words
5 Stars
Quick Summary:
Characters –

Joe Gardner, 22

Basic Plot –

Joe dies, but wants to return to earth to live out his dream. He and a soul not born yet and not wanting to be born, 22, go to earth, but then 22 is in Joe's body.  They have to swap him back, but on earth 22 learns she wants to become a person, and Joe learns that his dream might not be what he actually wants. In the end Joe and 22 both get what they want with a bit of teamwork. 
Favorite parts/important quotes –

My favorite part is when 22 tries to find a spark before she goes to earth, and when 22 first comes to earth and is experiencing all different things. "Is All This Living Really Worth Dying For?" 22; "I'm Going To Live Every Minute Of It." Joe; "A Spark Isn't A Soul's Purpose." Joe
Aspects that you didn't enjoy –

I didn't like when 22 gave up or when Joe wasn't nice when trying to get his body and life back. 
Overall Impression –  Overall, I really enjoyed the movie because it showed 2 different souls finding their true spark, and showed how long it took, but in the end it was worth the wait.