November 2021 Seniors of the Month: Anna Sullivan and Eryka Duckett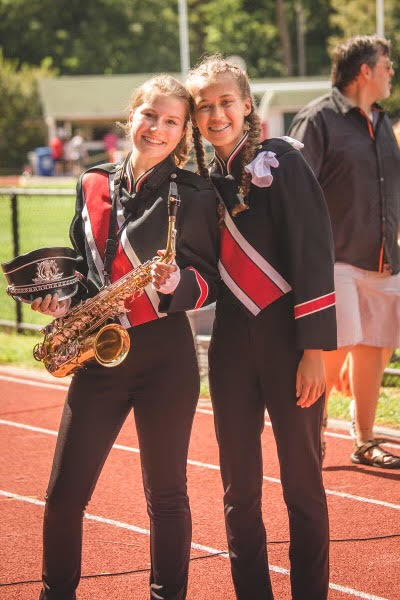 This year, the Glen Ridge High School Marching Band was crowned Group One National Champions at the USBands Open Class National Championships in MetLife Stadium. The students that helped lead the band to success are Anna Sullivan and Eryka Duckett, two high-achieving Seniors who share the position of drum major.
Anna has been a part of many school activities including the Bowling Team, Pep Band, Jazz Band, Marching Band, Feminist Club, Cultural Awareness for Everyone, and serving as co-treasurer of Spanish Club. She tells me, "Over the years I've gradually become more confident in myself and more involved in the clubs and sports I've been a part of." And clearly, this increasing involvement has paid off, with her climbing the ranks from the band's lower woodwind captain as a Sophomore to drum major as a Junior and Senior.
Eryka has been deeply involved in the GRHS community as well. Her extracurriculars include being an EMT, Drama Club, Marching Band, Jazz Band, and Pep Band. Between theater and band, she feels that she has brought pep, energy, and a love for the arts to school events. She finds great satisfaction from these artistic pursuits, explaining that, "It has been a crazy year trying to get back into the old flow of things, but it's been really worth it and rewarding." Both girls are also high-achieving students enrolled in classes like AP Calculus and AP Literature.
As drum majors, the girls lead practices, teach marching basics, keep track of technical details, conduct shows, and more — no small responsibility for 17 year olds to take on. But Anna and Eryka are able to manage it because of how passionate they are about music and how much they appreciate their band. 
"Marching band has been a place where I've grown the most as a person, musician, and friend. I've fallen in love with the caring community that I found myself to be a part of," Anna explains, "so it has been an honor and a pleasure to take on this responsibility."
Likewise, Eryka commented that, "There's a real sense of family in the band. Everyone is always there for each other and we're very close."
Anna and Eryka have big, and coincidentally similar, dreams for the future, both thinking about studying psychology or sociology in college. Eryka is contemplating a career in psychology or as a social worker, but music is still a big part of her dreams: "I want to be really involved with music for the rest of my life," she tells me. Anna wants to enter a helping profession, even potentially exploring women's, gender, or sexuality studies and searching for a career path within those fields. Just like Eryka, she sees music as a definite fixture of her future, saying, "I'd also like to continue my participation in music ensembles since music is a big passion of mine."